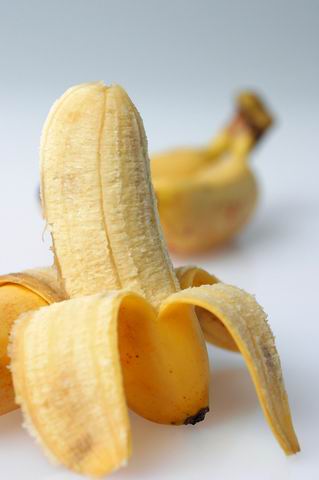 It was about 12 years ago in Rome when I first spotted them at an outdoor produce market. Amidst the vibrant shades of red, purple, green and orange, my gaze centred on the little fruit with bright yellow skin, sparsely flecked with tiny brown dots. Baby bananas! How adorable! What is it about miniatures that is so irresistible? But not only were they cute, they were the sweetest bananas I had ever eaten. Plus, those awful, long stringy things (called phloem bundles) you find on regular bananas were barely noticeable. Along with paprika potato chips and Banoffi Crunch cereal, the baby banana was definitely one of my favourite "food-finds" during my European vacation.
Banana plants (not trees as I had thought) are the world's largest herb, grown in South America, the Caribbean, Asia, and Africa. And what we call a "bunch" is actually a "hand," consisting of 10 to 12 fingers, while bunches are clusters of hands.
Although I wouldn't mind an excuse to travel afar in search of the baby banana, I'm glad that these days I need not go further than the local grocer to get my mini banana fix. Aside from size, the mini banana has several distinguishing characteristics from our familiar, regular-sized banana; thinner skins, sweeter flesh and more variety.
While the world's most popular fruit comes in 300 varieties, the large Cavendish is our only choice in most North American markets. It's not the most flavourful variety, but its ability to proliferate well and withstand the shipping process makes it a mainstay on the shelves. On the other hand, little bananas are available in four varieties. The Chiquita "Mini" is a Pisang Mas variety, while the Dole brand offers "Baby" bananas in Orito, Manzano-Apple and Lady Finger varieties.
They seem thick-skinned, but bananas are very fragile and easily susceptible to spoilage and bruising if not handled with care. Depending on your preference for taste, or how soon you want to use them, bananas can be purchased from green-coloured, to bright yellow, to brown.
Minis, like other bananas, emit ethylene gas, which speeds the ripening process. To delay ripening, remove the bananas from any bags or packaging and separate the fingers. And unless you want them to become grayish, tasteless waste, keep them out of the fridge! At least until they have fully ripened… a perfectly sweet, ripe mini looks like an overripe Cavendish.
While regular bananas are among the cheapest fruit you can buy, compared to Cavendish, the minis can cost quite a bunch, due in part to lower yields driving higher production costs, and the extra care and handling required to preserve their delicate form. But at least my minis get eaten, unlike the last few Cavendish, which inevitably turn brown, then get tucked in the freezer for that banana bread I keep intending to bake.
Like a regular-sized banana, the mini can be used in baking and cooking; just double up on quantity when substituting the babies for the big guys. Baby bananas are also similar in nutrition to their larger cousins, containing potassium, fibre, and vitamins B6 and C.
And while I still search for the elusive paprika potato chip, it's comforting to know I have a hand of baby bananas within reach.