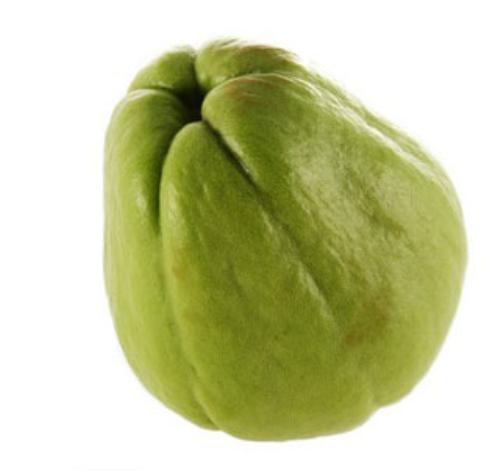 If one didn't know better, one could easily mistake a Chayote (Chy YOH Tee) for a pear having a major meltdown. While it shares the pear's shape, size and colouring, this Mexican gourd's skin is fraught with folds of what could be misunderstood for fatigue and worry.
But once you peel back the furrowed, light-green covering, Chayote reveals its crisp, firm flesh.
From its beginnings as a staple food in Aztec and Mayan society, Chayote is a well-seasoned traveler spreading to the Caribbean and Southeast Asia, where its mild flavour becomes infused with the varied spices and tastes unique to those cultures. Eventually Chayote made its way to the United States where it flourishes in the warm climates of California and Florida.
When choosing Chayote, reach for unblemished skins with even colouring – and the smoother the better. Like we humans, the older the Chayote, the more wrinkled and dry the skin becomes. Chayote are high in water content, so make sure the Chayote is firm and heavy for its size to guarantee its moisture is intact.
Young Chayote doesn't require peeling as the skin is soft and mild. But if you choose to remove the skin, do so under running water to avoid irritation from the resin that releases from the peel. Cut through the squash and you'll find a solitary, thin seed settled in the centre. Although I've never eaten one, the seed is edible when cooked, boasting a nutty flavour.
Chayote lends itself well to many cooking methods and a variety of ingredients. But to keep it simple, this versatile squash can be used in much the same way as a zucchini or potato. Adding to stir-fries enhances its delicate flavour, while retaining its crisp texture. Raw Chayote can be a great substitute for water chestnuts in salads or slaws. And whether baked, sautéed or stuffed, it goes well with pork, seafood, chicken, and a variety of veggies.
The low-cal Chayote is high in Vitamins C and B6 and is a good source of potassium. And the taste? Cool as a cucumber.