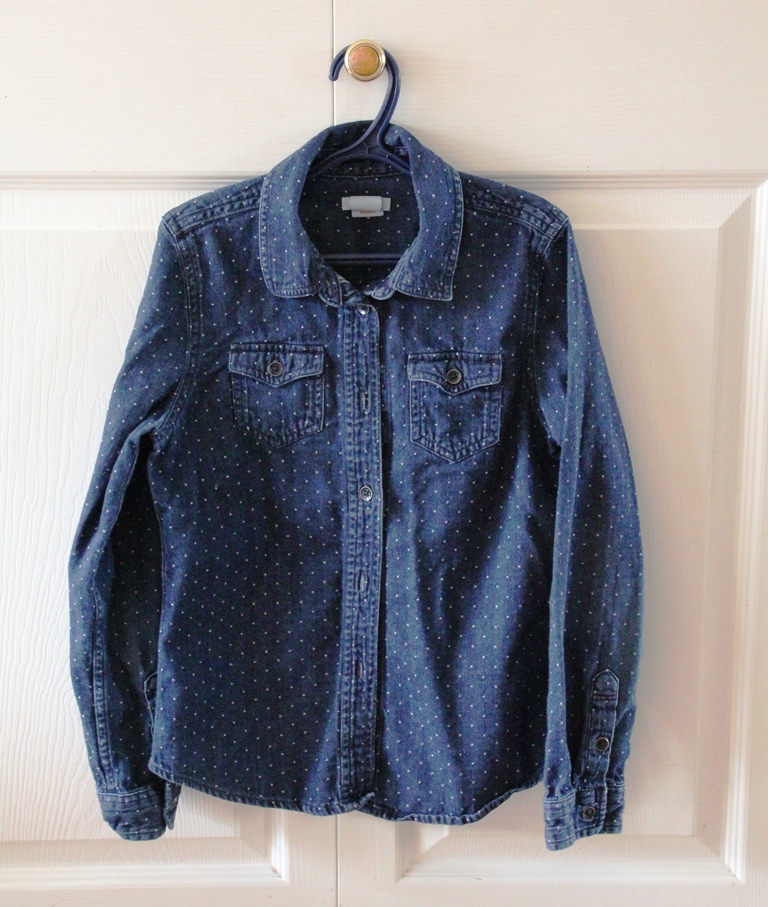 Ahhh, the end of spring break and the beginning of back to school.  Arrgh!  Back to the madness of clean laundry, packed lunches and ironed clothes.  I still choose my daughter's outfits as she cares nothing for style and fashion, which is something I greatly care about, but alas, am hopelessly inept at assembling anything fashion forward.  Since the weather is still a bit chilly, I was thinking denim.  She was thinking CHICKEN.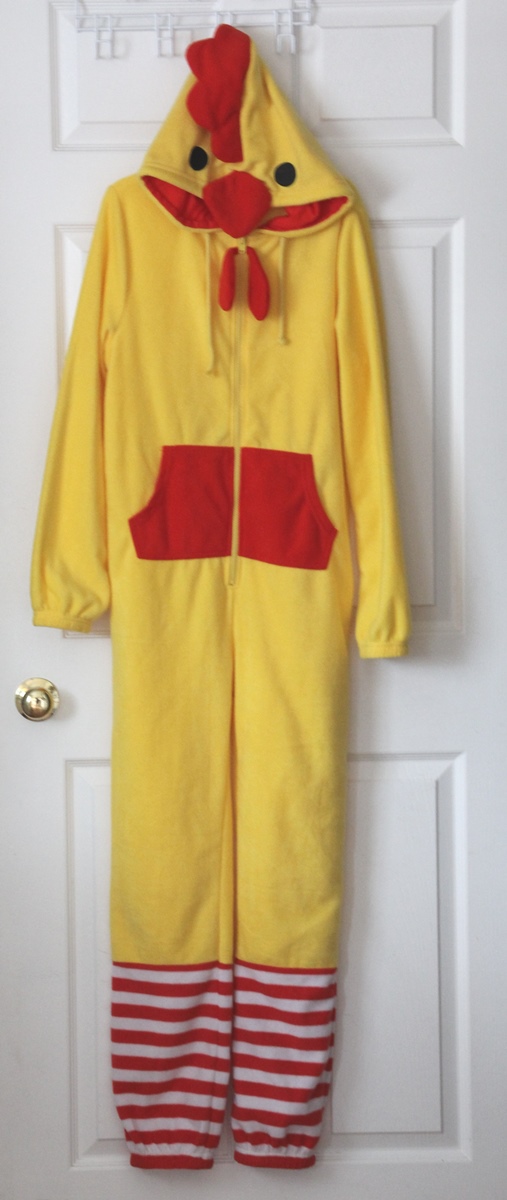 Not. Even. Kidding. During spring break I planned a 'girls only' shopping trip as a mid-winter growth spurt left my daughter with a closet full of flood pants.  Yet somehow we ended up buying a chicken suit.  Which she wore all afternoon, evening, to bed and almost to school the next day. Daughter:  "Please, please can I wear it to school?  Please?" Me:  "It's a chicken suit." Daughter:  "But everybody wears them.  Please." Meddling Husband:  "Weeellll, is it pajama day?" Daughter:  "No, but everybody wears them when it's not pajama day." Meddling Husband:  "Weeellll..." Me (interrupting):  "It's a CHICKEN SUIT.  You are not wearing a CHICKEN SUIT to school." Cage closed. I do not understand this onesie weirdness. If it's a school-sanctioned pajama day, then fine.  But I will not have my daughter, on some random day, walking around in a onesie chicken costume sticking out like a sore beak. Now, I must confess I had a onesie at my daughter's age.  But never, ever, ever in a million years was it a CHICKEN!  And never, ever, ever in a BILLION years would it have ever crossed my mind to wear it to school. And I must confess again that at one time in my life, I did happen to wear pajamas to an educational institution.  It was in college and we had planned a pajama day.  And when I say 'we,' I mean a girl I will call Donna.  And when I say 'planned,' I mean she randomly muttered something like 'Hey, let's all, everyone, every single body wear our pajamas tomorrow.'  And when she said, 'all, everyone, every single body,' she meant me.  Because we were the only ones there when the plan was hatched. Donna she said she would call everyone, so I just assumed she would be spending the night on the phone coordinating sleepers, slippers, onesies and nighties.  Perhaps I was wrong to assume that. The next morning I borrowed my roommate's flannel nightgown, terrycloth robe and blue slippers.  (Because I have the same PJ problem my kids do - damn genetics!).  I decided to drive instead of taking my usual bus ride downtown to the campus as I was afraid I'd get lumped in with those weirdos at the back. Once at the college I would feel more comfortable being around all the other PJ-partiers.  Except when I showed for first class, Donna was wearing jeans with a horsie pajama top under a leather jacket. "See!  I told you I have horsie pajamas!" she exclaimed.  "Oh, I forgot to call people.  But it's good YOU remembered!  I would have felt so out of place here with this horsie top and all." So there I sat through my
Communications,
yes
COMMUNICATIONS
 class, my brain torturing over forgotten phone calls and asinine assumptions and contemplating what an excellent case study this scenario would make. I pretended I enjoyed the soft fabric dotted with tiny blue buds, swooshing against my legs as my slippered feet clomped down the halls.  But I really felt like Laura Ingalls - except for that night bonnet she wore.  Thank goodness my roommate didn't have one of those! As much as I tried to 'own the look,' I knew it was my roommate's flannel nightie, terry robe and blue slippers hastily packaged into Donna's 'great' idea. And THIS is why my daughter can't wear a chicken suit to school!  Does that even make sense or am I being completely unreasonable?